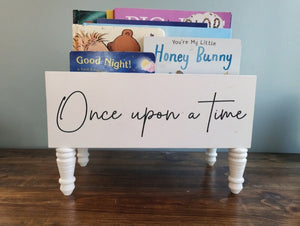 Perfect gift for a baby shower! Put a few of you favorite children's books in it and give the gift of education!
The words are UV printed black ink on white wooden box.
Perfect way to store special books in a child's room or playroom!
Measurements:
15" Long x 9.5" High x 7" wide
*Books, stuffed animals not included.
Each piece of wood is different and absorbs the stain and paint differently. Texture, knots, cracks, and other natural characteristics of the wood may or may not show up in your finished piece. Each piece will have its own unique finished look. All signs that are created in our shop are not identical.
If you have any questions let us know!