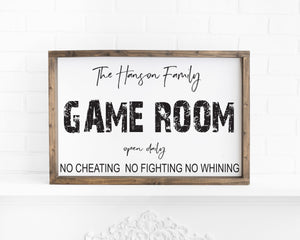 Great for Game Rooms, Man Caves.

Black Vintage distressed game room font that is black. Wood backer is painted bright white.
Measurements: 11" x 14", 16" x 20", 16" x 24" or 18"x 24"
Please message with special requests or any questions about the item!
Each piece of wood is different and absorbs the stain and paint differently. Texture, knots, cracks, and other natural characteristics of the wood may or may not show up in your finished piece. Each piece will have its own unique finished look. All signs that are created in our shop are not identical.